Fairmont Orchid Hawai'i is a unique and transformative hotel experience that takes visitors into the culture of traditional Hawaiian hospitality. The staff, service and facilities reflect this welcome change with each guest at Fairmont Orchid getting to participate in an authentic cultural exchange with staff members who live by ancient values of honor, respect and aloha.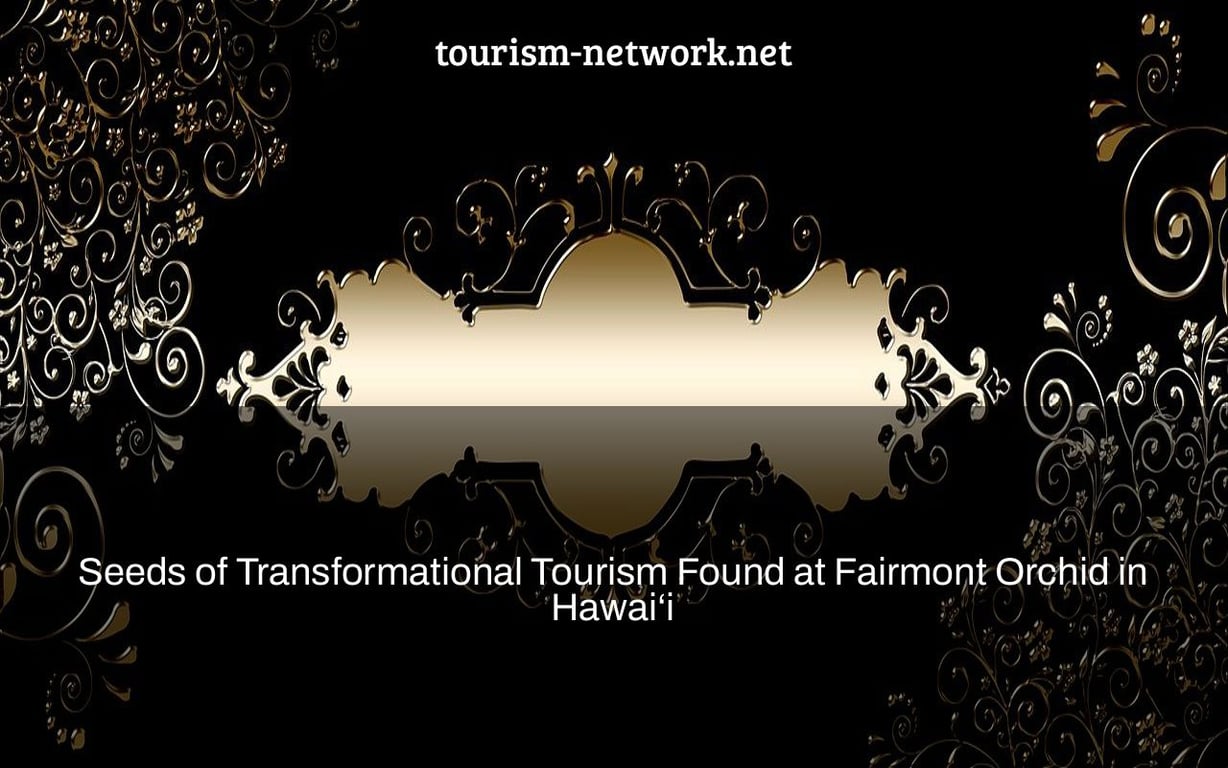 Holiday travel to Hawai'i is now open, and a rise in visitor arrivals is expected. However, many residents of Hawai'i are dissatisfied with the consequences of "over-tourism." Locals claim that the sheer quantity of tourists is destroying Hawaiian values and lifestyles, and that many visitors are disrespectful of their island home. Are some guests being deliberately unpleasant, or are they just unaware of the culture? How can we effect change in a state when tourism accounts for the majority of its revenue? Can a tranquil garden on Hawaii Island's Kohala Coast be the germ of a paradigm change in the state's tourist woes? Yes, we believe so. But first, some background information.
ADVERTISING
What's Hot Right Now
The Background
Tourist arrivals peaked at around 879,551 in July of 2021. Beaches were overcrowded, and roads in famous tourist spots were inaccessible, according to islanders. Due to a lack of supplies and food, rural communities were forced to travel long distances for the necessities. Rental automobiles were hard to come by, and the prices were exorbitant. Tourists borrowed U-Hauls and pick-up trucks for sightseeing, rendering residents unable to rent them for home relocation. Visitors camped illegally in state parks and on local streets in rented vehicles. Following the recommendations of pay-for-play tour apps, they trespassed across private land to trek. Residents and native Hawaiians protested at airports and government buildings, believing that the state of Hawai'i was prioritizing tourism above their quality of life.
The Ideal Storm
More first-time visitors to Hawai'i are being drawn in by pent-up demand for tourism and affordable airfares. Many of the guests are not ideal. Images of visitors disobeying mask instructions, assaulting endangered species, walking on living reefs, and trespassing in culturally sensitive places were found on social media channels and groups. Natural resources are in short supply. Residents call Hawai'i home, but most visitors come for the "fun" vacation promised by the commercial hoopla. Hawai'i is presently at a crossroads between tourist expectations and the quality of life on the islands. So, what are your options?
Taking Small Steps Towards Change
Some airlines, hotels, the Hawai'i Tourism Authority (HTA), and the Native Hawaiian Hospitality Association (NaHHA) have launched campaigns to educate visitors on correct behavior when visiting Hawai'i. Visitors may join up for volunteer activities via the Malama Hawai'i Program or accept the Malama Pono Pledge. Although these are optional, there is no way to guarantee their effectiveness. They are, however, the beginning of a reorientation and rebuild of the failed tourism paradigm, which focuses largely on increasing the number of visitors to Hawaii.
Most people believe that the acrimonious "selling of aloha" has come to an end, and that the time has come for a serious transition. As a result, much of the tourist advertising pitch has shifted from "party in paradise" to a deeper appreciation for this special environment. Rather of "stealing" from Hawai'i, the new message is to care for Hawai'i via volunteerism. Many moving components of Hawai'i tourism need to be revamped, but reaching out to guests directly with information about the state seems to be the most effective.
"Respecting and caring for the soil is important to Hawaiian culture," says Charles Head, General Manager of the Fairmont Orchid. Visitors that practice malama (caring for) Hawai'i have a more meaningful experience throughout their stay here. Promoting behaviors that safeguard our land and water is a top goal for us. We have a tremendous appreciation for this beautiful area we call home, and we want to do all we can to make the globe a better place for future generations."
Connection as a means of sowing the seed
Many resorts and hotels use cultural programs to offer Hawai'i's unique tales and experiences, encouraging visitors to become mindful tourists. The Fairmont Orchid, located on Hawai'i's Kohala Coast, provides a diverse range of fun Hawaiian cultural activities that foster the development of a personal bond with the island.
One of their events, the Ulu Pono Garden Experience, is provided free of charge to visitors. Ka'iulani Blankenfeld, the Director of Hawaiian Culture at Fairmont Orchid and a native Hawaiian cultural practitioner, leads visitors on a tour of the Chef's Garden. She discusses the flora and trees, as well as their significance in Hawaiian culture. Native plants utilized for medicine, canoe cordage, lamp oil, kapa fabric, water storage, food, fishing lures, and a variety of other purposes offer a fascinating study of Hawaiian life just a few centuries ago.
Fairmont Orchid's Director of Hawaiian Culture, Ka'iulani Blankenfeld (photo via Fairmont Orchid)
Sharing is a core concept of "aloha," and visitors partaking in the garden experience are invited to harvest and sample from the cultural and culinary garden. Each participant will get a gift of prized Hawaiian chili pepper seeds to plant at home, cultivated on the 'aina (property) of Chef's Garden. "The term 'aina is used to denote 'land,' but the precise definition is 'that which feeds," Ka'iulani adds. Our responsibility is to be good stewards of the land so that it can care for us and so that the food we raise on it is healthy. As we work together in the garden, we will discuss mo'olelo (tales) about particular plants local to Hawai'i, such as 'ulu (breadfruit) and kalo (taro). I hope that this trip motivates our visitors to care for Hawai'i's land—and to return to their homeland and consider how the malama (caring for) notion relates to everything in life."
Everyone benefits from transformational tourism.
A meaningful encounter with a Hawaiian practitioner or working with a local work project may teach a tourist to embrace the land, people, ocean, animals, and culture of Hawai'i to enhance their own island experience and improve the quality of life for Hawai'i's people. The seed of knowledge and malama, once sown, will bloom into a profound love and respect for Hawai'i. And starting in the garden with Ka'iulani is a logical choice. On Tuesday, November 23, 2021, the Fairmont Orchid's Ulu Pono Garden Experience opened to hotel guests.
Watch This Video-